Innovating Computer Workspaces
Nordic Appeal's goal is to innovate computer workspaces.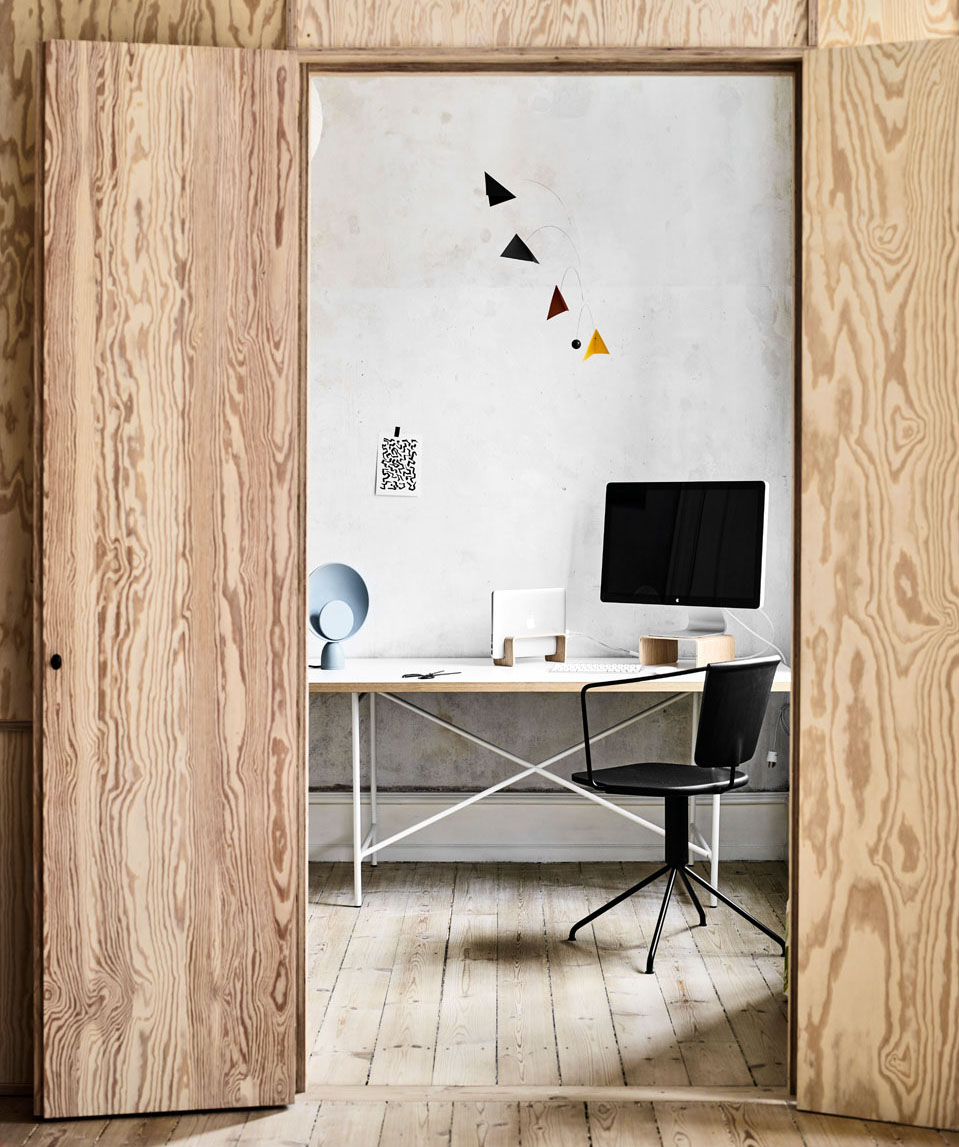 Nordic Appeal's want to create accessories that are friendly for people and the environment but we also want to make accessories that are appealing and good-looking. This might clinch and often one goal can exclude the other but we want to make a synergy of design, sustainability and comfort.
We want to create something unique and beautiful to reflect the danish design traditions. In Denmark we are famous for creating simple and beautiful furnitures that last for generations. We want to follow this path and make something iconic and timeless.
If you are not sure what we talk about have a look at the 4-leg Ant chair by Arne Jacobsen.
Ergonomics
Our main concern with the modern workspace is that often even expensive computers are not designed with ergonomi in mind. The goal is smaller size and more speed which lead to some very beautiful products but often they lack in comfort and sustainability.
Today we often need to be able to work nearly everywhere we go and the laptop is our third hand. Many people also commute every day and want to be able to work when being in the train or in a airplane. We also want to work from home and work in small spaces where a large desk is impractical or impossible to fit or adjust.
We also avoid contributing to destructive mining and the destruction of natural habitats when sourcing for aluminium and chemical production of plastic. We also insist on producing on a certified factory with high environmental and labor standards.
Global Environment
We care for the global environment, nature and wildlife and want to be sure we are working in the most environmental manner. That is why we work with wood and wood from sustainably forested woodland. This is great because we can regrow trees we use no hazardous and dangerous chemical in the production.
Local environment
A common problem when working with laptops is heat. They get warm and when used on your lap or when resting you wrist they can damage your skin. The problem often occur because you use your laptop on an uneven or soft surface. If you read this support article from Apple you will understand why?
Using Your MacBook When you're using your MacBook or charging the battery, it's normal for the bottom of the case to get warm. For prolonged use, place your MacBook on a flat, stable surface. Do not place your MacBook on your lap or other body surface for extended periods of time. Prolonged body contact can cause discomfort and potentially a burn. The bottom of the MacBook case functions as a cooling surface that transfers heat from inside the computer to the cooler air outside. The bottom of the case is raised slightly to allow airflow, which keeps the unit within normal operating temperatures. In addition, warm air is vented from the slots in the back of the case.
This is the simple reason why you should use your laptop on a stand or a hard even surface.
Computer Workspaces
In the following I will focus on how our products improve your working comfort.
On the go
The MacBook stand is essentially a small desk and will improve your work comport wether working on a table or you are in the train or work in the sofa. It's designed to fit the MacBook and slide in your computer bag along with your MacBook and give extra protection. The stand will give extra support and enabling good airflow preventing your MacBook to over-heat. Ergonomically it will raise the display and angle the keyboard to prevent potential pain in your neck, shoulders and wrists. The design is very simple but is very complex in the making.
In the home
In your home you could use the MacBook stand as described above. Use it in the sofa when you work from home or in the bed when watching a movie. Specific for the home we have designed the MacBook Wall Desk which is meant as a small standing table or a normal laptop stand you can move around the house. The smart thing is that it's multifunctionaland can be fixed and easily be removed and moved around the house. The stand is designed to be a very light workspace in you home or home office. You could have it mounted on the wall in the kitchen to do e-mails or find recipes or you could bring it on the dinning table to work in the evening and organise your thing neatly after work.
At the office
For office use we have designed two products: The iMac and display stand and the vertical MacBook stand, which can be used in combination or on their own. Personally I love to use the MacBook mounted in the vertical stand next to the the 27" Apple Display. I think the MacBook look very nice when positioned vertical and make it very easy to fit on the table even when you need space for a mouse and a keyboard.
iMac and display stand will raise the iMac or Apple display to get it up to proper eye level. Which for many people with improve the posture and work as a height adjustable ergonomic monitor. The design make it also replace the books or papers you pile under your display to raise it to proper height. We like to sit on a clean table when we have customers and clients in the office and we also like to upscale the office with some great danish design.
Final words
We use much of our time exploring nature so we really appreciate the green places on the planet and will do what we can to keep the planet green for us and our kids. That's why it's important to think green – as we say comfort and sustainable design!